ARTISAN MEDIA is a small media company based in Palmerston North, New Zealand. We have over 10 years experience filming a range of events – including weddings, school productions, funerals and other events.
We utilise the skills of a bunch of fantastic people who help us out with camera operating, design work, and anything else we need.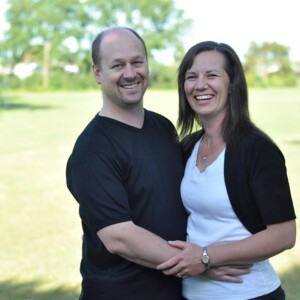 Andrew & Rachel Turner
The brains & the beauty
The low down
About Andrew & Rachel
Artisan Media history
Why Weddings?
Why use Artisan Media?
About Andrew & Rachel
We are both trained Primary School teachers. After meeting while both studying, we were married a few years later on 16th September 2000. Our twin boys, Caleb & Samuel, were born in 2003 – followed by Jacob in 2005 and Eden in 2007.
We are a busy family! As well as doing all the hard lifting at Artisan Media, Andrew is also a part-time teacher. Rachel keeps herself busy by home-schooling our four amazing kids.
Artisan Media history
Artisan Media started out of a hobby of Andrew's – initially filming school productions, friends' weddings, and family events.
Alongside full-time teaching, the work took a lot of 'spare time' so near the end of 2012 we made the decision to leave full-time teaching in order to devote greater time to Artisan Media while part-time teaching at the same time.
We have worked with some fantastic people over the past few years – both colleagues and clients. Our projects are always new – no two events are the same.
We love what we do and have created a balance between Artisan Media and teaching.
Why Weddings?
Weddings are such an exciting event to capture. We love witnessing a man and woman commit to a lifetime together. The polished cars. The flowers. The family. The friends. The emotions. The hair. The dresses. The circumstance of a wedding bring a natural challenge for us to capture – and we love it!
Your wedding day flies by so fast and you would be astounded how much of your day you miss. Capturing the special moments on film is important for viewing weeks, months, and years down the track.
Sometimes, family and friends are not able to attend weddings – which is a super reason to ensure your wedding is filmed. We can prepare your wedding for distribution (in DVD, Blu-ray, and digital formats) worldwide.
Why use Artisan Media?
We are experienced enough to handle most projects!
We have 'contacts'! Anything we can not handle, we know people who can!
We notice the details others may miss!
We care about the quality of the final product!
We have young children and really need the money!